Everyone likes pictures and we're no exception. So far the pictures are a little light on action but we've only had a designated photographer for one day so far. That should improve in the future.
Our goal is to take some pictures on each trip we make but we don't always meet that goal. But, for those times we do we have some good ones. If you're planning on coming with us for a game and have someone that would like to come along but not necessarily play then we can recruit them as a combat photographer. We always have at least one extra mask, along with some orange vests, so safety is covered.
Seperate Galleries by Trip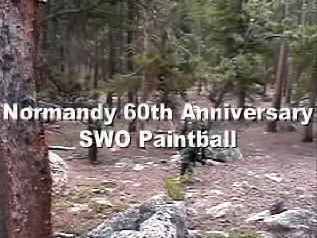 Here's the video, shot by Phil and edited by Shawn, of the Normandy games played on June 5th, 2004, the 60th Anniversary of the Normandy Invasion, aka D-Day. This is the first large video we've made. It's about 2:18 in running length and about 25MB in size, so please download it to your computer before viewing repeatedly so we don't destroy our bandwidth. It does require Apple Quicktime to run.